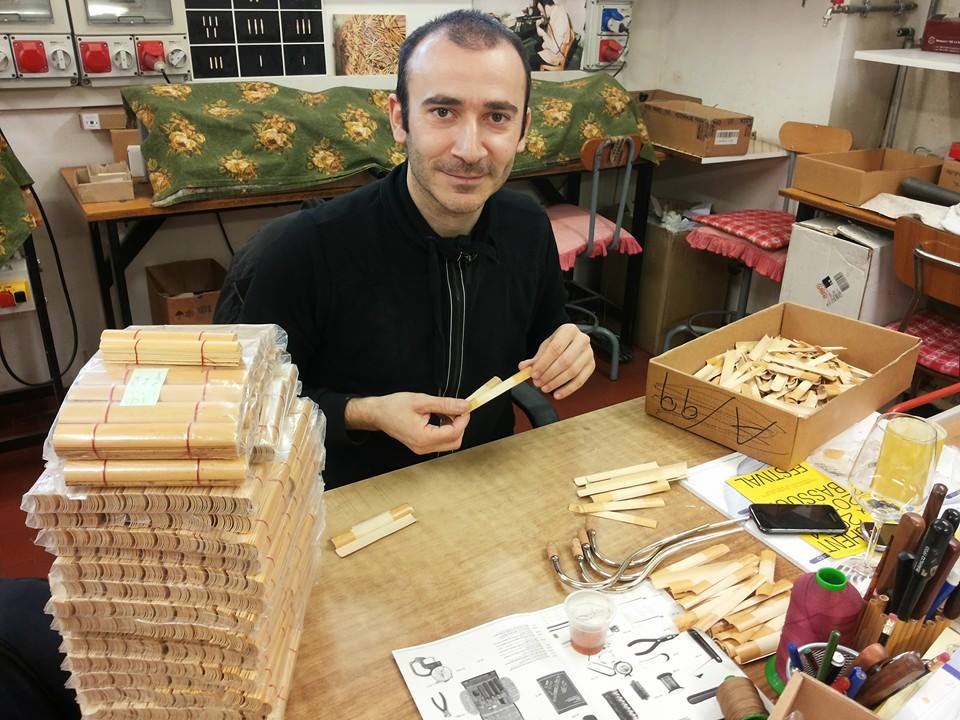 Ivan Calestani is very proud to present his reeds to you!!
Since a few years Ivan is specialized in the construction of reeds for bassoon,contrabassoon and historical instruments, such as dulciana,baroque anc classical bassoon and oboe da caccia.
Every single piece of cane, the raw material of the reed, is chosen by him very carefully one by one. This step is a very important detail for having the possibly highest quality for his reeds.
His passion for the manufacturing of reeds unified with his great experience on modern and historical bassoons are the best "ingredients" for an excellent feedback from many bassonists all around the world.
Modern Bassoon
Cane Bonazza CF 21/A, D3,7+,Takeda,Marca,Glotin,Rigotti Rieger, Marca,Glotin
click to open
Fa­çon
Thunemann
1,1A,2,3,5,6,15,20,32,
34 Rieger
Takeda
Ivan (IC1 e IC2)
Menghini
Price: 19.20 Euro (20% VAT included)
Baroque Bassoon ( all models from differents maker)
Cane Bonazza ,Medir, Danzi,Marca 135mm, 138mm, 140mm, 144mm
click to open
Fa­çon
25 Rieger (Mod Grazzi)
B1 Rieger
B2 Rieger (anche modificata piú stretta)
B3 Rieger (Mod HKICW Wolf)
B4 Rieger
B5 Rieger (Mod Eichentopf)
B6 Rieger
AA Rieger
21 Rieger
G-A ( nuova forma!!)
Price: 24 Euro (20% VAT included)
Classical Bassoon
Cane Bonazza , Marca, Medir 135, 138, 140 mm
click to open
Fa­çon
25 Rieger
EH Rieger
Mod. Zafra
Mod. Sergio
Price: 24 Euro (20% VAT included)
French Bassoon
Cane Bonazza 120mm
click to open
Fa­çon
Price: 19.20 Euro (20% VAT included)
Dulcian ( all dulcian family from Sopran to Quartbass)
Cane 120,135,140mm
click to open
Fa­çon
B1 Rieger
B2 Rieger
B3 Rieger
B6 Rieger
Stradivari
31, e vari altri modelli
Price: 24 Euro (20% VAT included)
Oboe da caccia
Cane Bonazza
click to open
Fa­çon
Price: 24 Euro (20% VAT included)
Contrabassoon
Cane Bonazza 142mm, 150mm,Rieger,Marca Rieger per contraforte ma con misure da controfagotto
click to open
Fa­çon
Price: 24 Euro (20% VAT included)
Contraforte
Cane Bonazza 180mm, Rieger 180 mm
click to open
Fa­çon
Price: 38.40 Euro (20% VAT included)
Romantic Bassoon
Cane Bonazza 120, 135 mm
click to open
Fa­çon
Price: 24 Euro (20% VAT included)
Heckelphon
Cane Canna Bonazza,Medir,Rigotti
click to open
Fa­çon
Price: 24.00 Euro (20% VAT included)
(Italiano) Ciaramella
Cane Marca, solo legno, no ance di plastica
click to open
Fa­çon
Price: 19.20 Euro (20% VAT included)